Hi everyone, I just finished receiving my latest order of SV Racing Parts, Front and Rear Motorcycle Stands,
Shipped to your door anywhere in western Canada with Payment in Canadian $ to make it easy for you.
http://www.svracingparts.com/products/#ecwid:category=3699184&mode=category&offset=0&sort=normal
I worked super hard to get these done for me with Quality Powder Coat Finishes and Super Stability, I also have my Black Custom Side Lift Stand for most all bikes including the Ducati 848 - 1098 - 1198, Monsters, 899 - 1199 and BMW S1000RR as well as Triumph 675 Aprilia RSV4 and many models of Japanese Sport Bikes including Ninja 25 - 300 models.
Check it out, It Lifts the bike by both wheels off the ground at the same time for all service and Repair.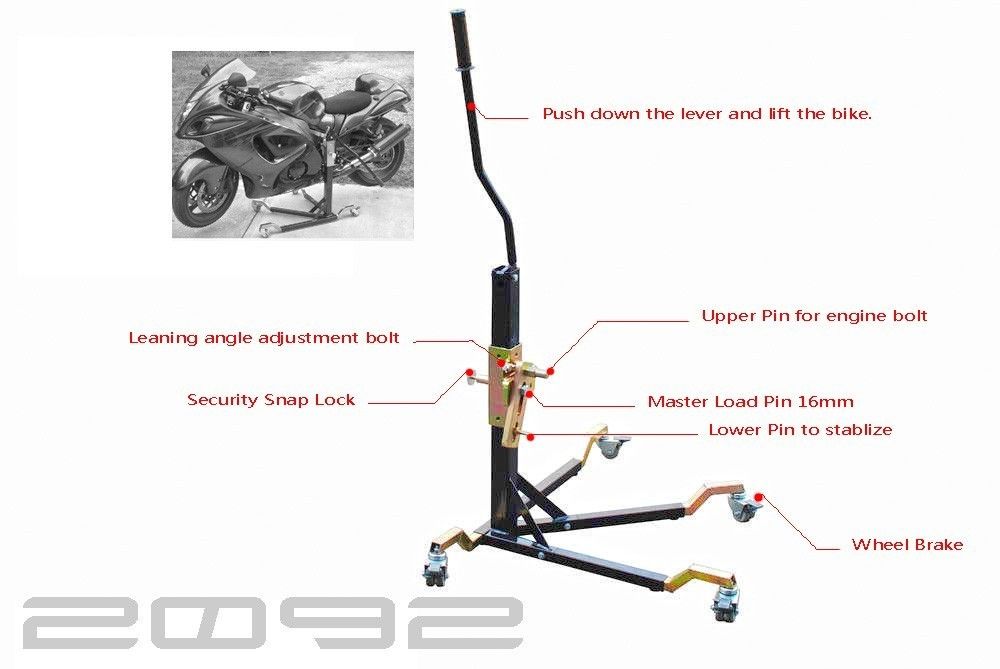 Email me Directly for the Special Pricing for my fellow EMRA Members and Racers.
What I really wanted to accomplish for us was to have High Quality Front and Rear Stands that we can use with Confidence on all our bikes for Servicing and Storage at a super price.
These are excellent parts that will serve you well and that I can be proud to have my name on for Quality and Value which has always been my personal goal with my fellow EMRA Members,
Visit me Anytime at
www.svracingparts.com
Steering Stem Front Stands: $125 Canadian $ Complete with a 5 Pin bonus pack
The Specific Custom Pin Kit for your particular bike is available,
Let me know your Bike Model and Year.
Combination Pricing available for Both these Front and Rear Stands: $170 Canadian $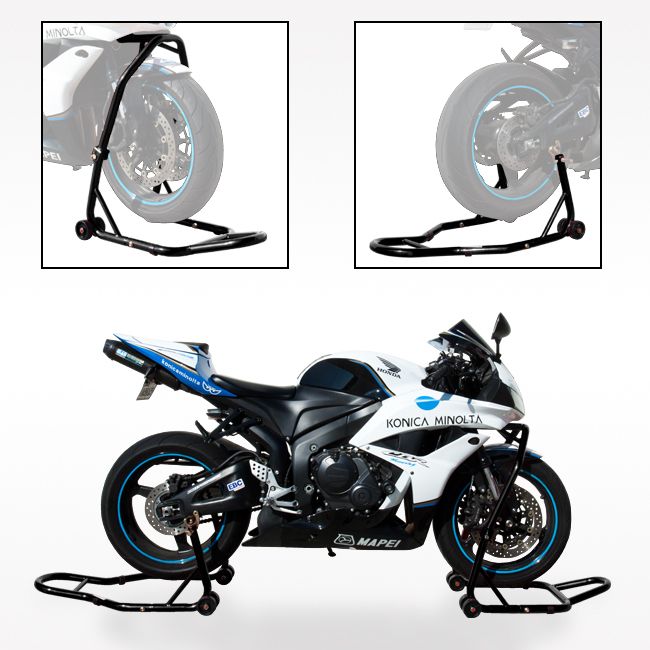 SS Black Rear Stand: $64.95 Canadian $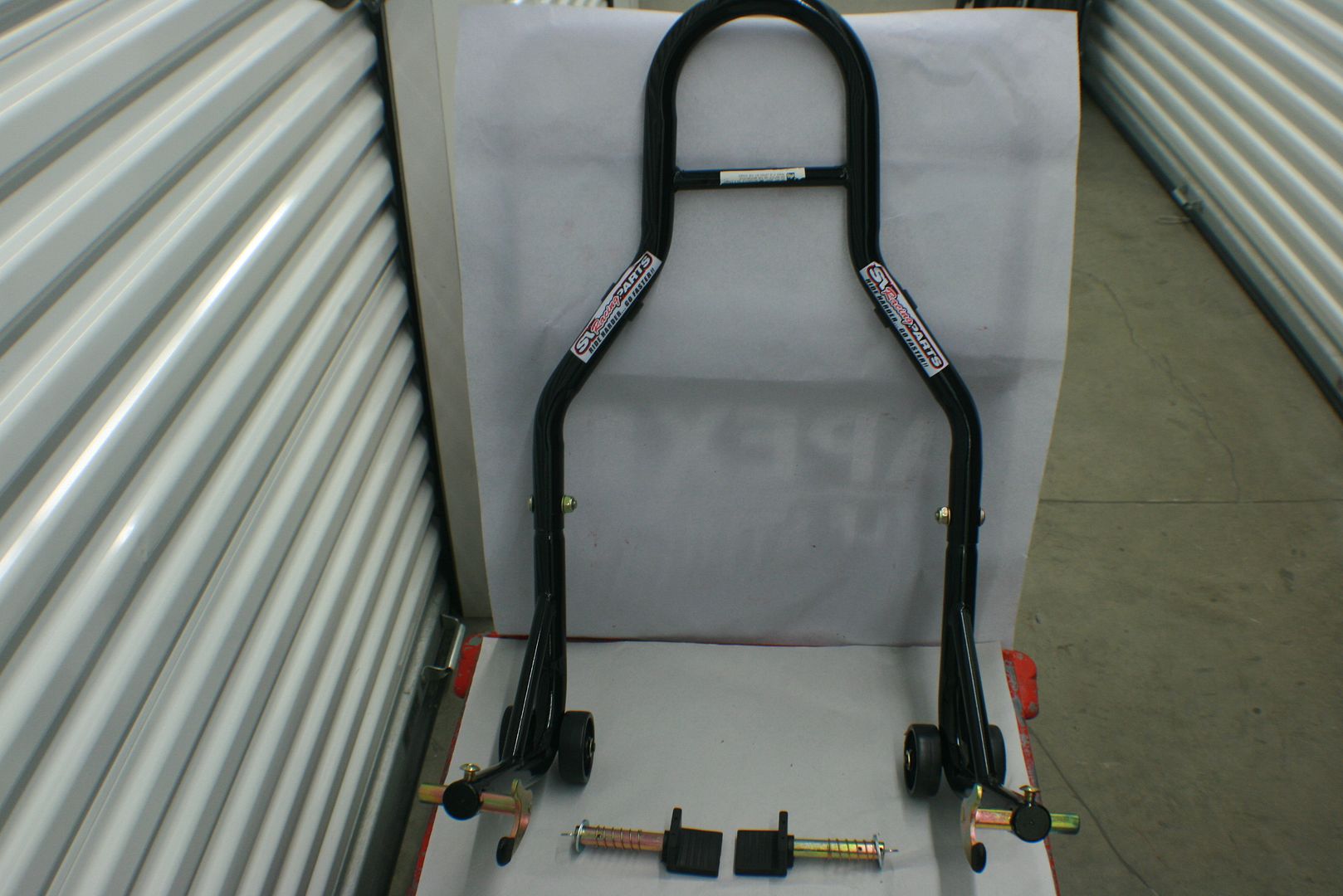 High Quality Custom Black Powder Coat Finish, Double Wheels and Welded Braces for Lifetime Quality and Extra Strength,
Attachments for lifting by Both Swing Arm Paddles and by Swing Arm Slider Spools Included with the Rear Stands.
Low Profile Design is perfect for Easy Lifting by One Person of Virtually all Modern Motorcycles and Most Earlier Bikes,
Ideal for use in your Garage for Working on or Maintaining your Bikes or at the Track and for Race Use enabling you to Lift Your Bikes Front Wheel Up Off The Ground Easily,
Easy and Simple One Person Use When Lifting your Bikes for Maintenance use in the Garage For Service or for Storage,
Email me Directly at
[email protected]
Fork Lift Front Stand: $49.95 Canadian $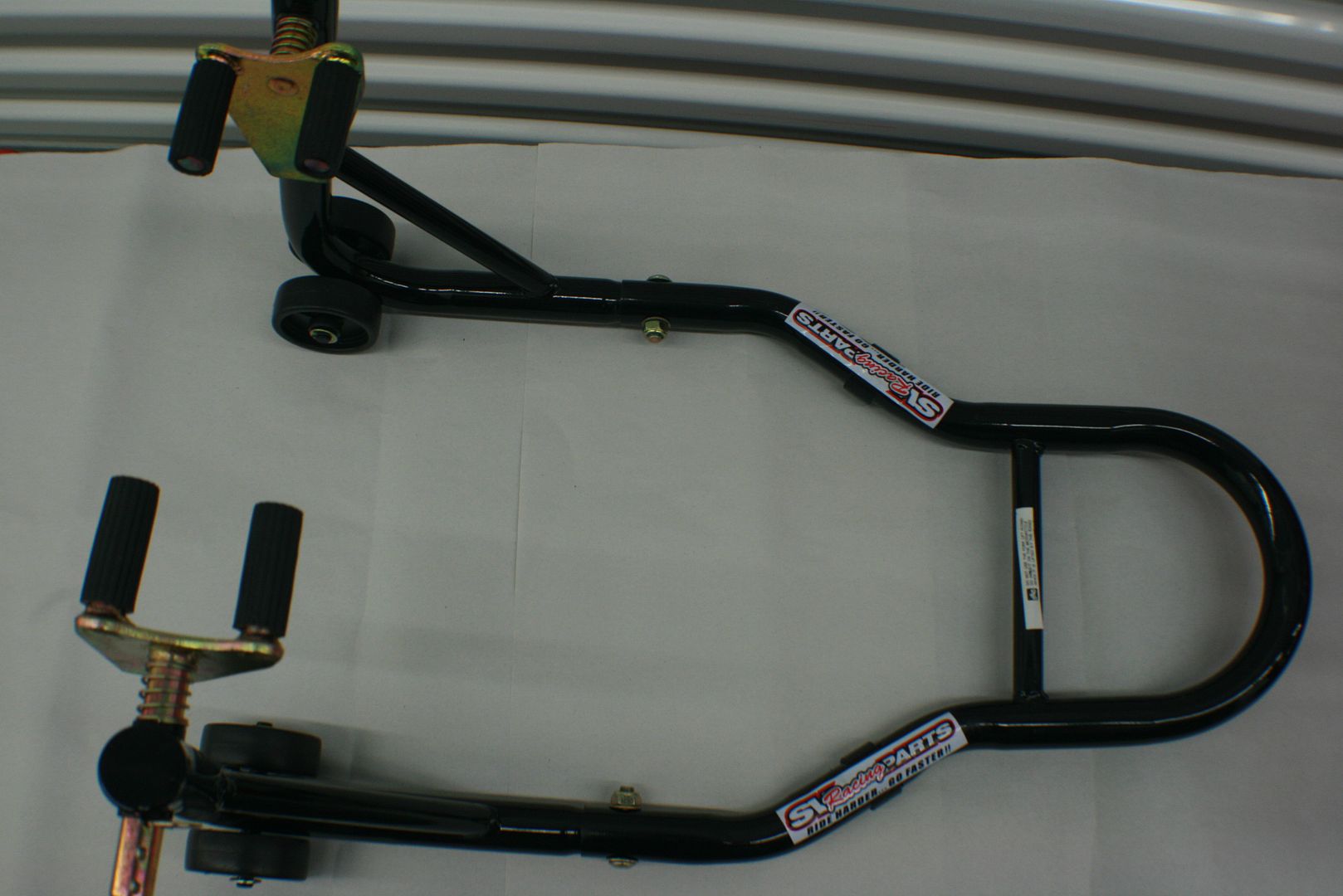 Combination Black Front Fork Lift and Black Rear SS Stand is $105 Canadian $
Same Great Features, High Quality Powder Coat and Excellent Durability and Support,
Everything is in stock and ready to ship today,
These are excellent parts that will serve you well,
Priced in Canadian $ for my fellow EMRA Members,
Enjoy the ride, and best regards,
Blair